Men's fleece jackets
Our men's fleece jackets are lightweight, comfortable, and versatile. They are often used for layering underneath our
shell jackets
and
mid-layer jackets
.  Made with high-tech microfleece fabric and breathable mesh lining, our fleeces can be worn for extra insulation in the mountains or as a standalone piece to enjoy an evening in the city.
Key features of our fleece jackets
1. Hi-Tech Microfleece fabric: an extremely soft, light and breathable type of fabric that offers ultimate comfort.
2. Shell Fabric Upper Yoke: the added upper part of the jacket is made of Durable Water Repellent (DWR) treated shell fabric. DWR is used to to prevent water from saturating the jacket's outer surface. This feature increases the protectiveness of the jacket and also contributes to a unique and slick style.
3. One arm pocket, two side pockets: functional pockets to store your essentials.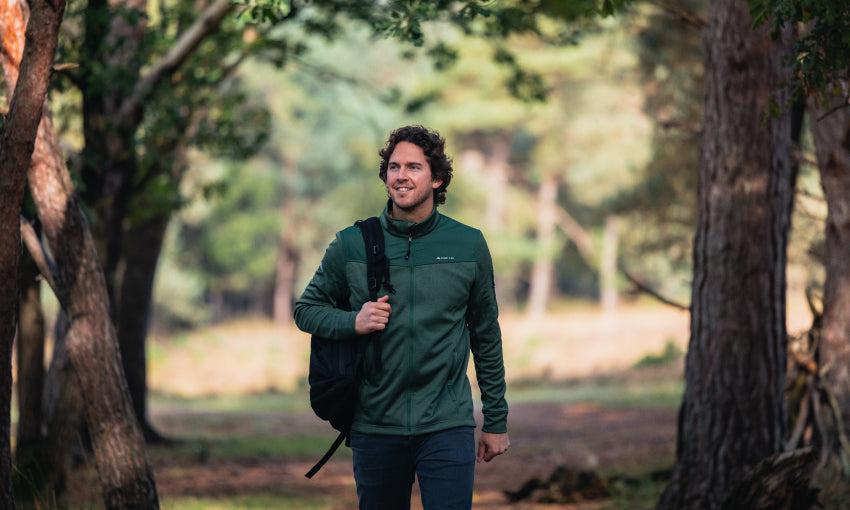 Men's Hybrid Fleece Jacket
We only use the highest quality fabrics and components, all of which go through meticulous testing and quality control procedures. The manufacturing journey all our products go through, has been tested at every stage of the process to adhere to high standards of ethics and sustainability.
Our men's fleece jackets can be ordered directly online. We ship worldwide and orders from within the EU will arrive between 1-3 days!
Cortazu's Fleece Jacket features
Cortazu Fleece Jackets are versatile and multifunctional, with many unique features throughout. The Hybrid Fleece has an added upper yoke made with DWR treated shell fabric, this reinforced addition not only increases the protectiveness of the jacket but also contributes to a unique and slick style. It can be combined with the Mountain Hard Shell or the Insulated Hard Shell.
In what situations should you go with a fleece jacket?
Fleece jackets are a necessary piece of clothing for everyone who enjoys the outdoors. There are numerous uses for fleece jackets. When the temperature drops during a summer camping trip, they will keep you warm and cozy. The upper shell yoke will also protect you against unexpected weather precipitations. 
Additionally, in really cold weather, fleece jackets can be layered underneath a hard shell, to keep you warm and comfortable even in the toughest conditions.
Why choose Cortazu?
B Corp™ certified
Certification that confirms that a Cortazu meets high standards of verified performance, accountability, and transparency. Check our results here.
Revolutionary fabric
All hard shell jackets are using the Dermizax®EV membrane technology.
Warranty
5 year warranty on all our products, including our jackets.